Today was one of those that you just wish you could either push "back" and start over, or click "fast forward" and hope for the best. I haven't been sleeping well, not really sure why, but it's really getting to me. I'm cranky and miserable to be around because of it. My girls were really pushing my buttons, not on purpose of course, but enough that I kept having to leave the room to cool my jets. My oldest broke one of my favorite partylite candle holders. The middle one nearly cut herself on said candle holder. And the two of them decided it'd be fun to interrupt my attempts to get the littlest to take a nap. ("But she wasn't sleeping! She wanted to get down!") *sigh* Suffice it to say it was a long and difficult day.
Then I realized amidst all the chaos, I hadn't taken a single picture today. One, my battery is dying and I keep forgetting to charge it. And two, there wasn't anything I was happy with, although that really doesn't matter huh? It's about life.
Anyway. So after I made myself dinner and was confident Hubby had the kids under control, I escaped to my craft space and took a deep breath. Much better. And I took this quick picture of a little something I set up today. Before I had a white tree candle, the glass holders, and that was it. (You can see and read all about it in this post
here
on my other blog).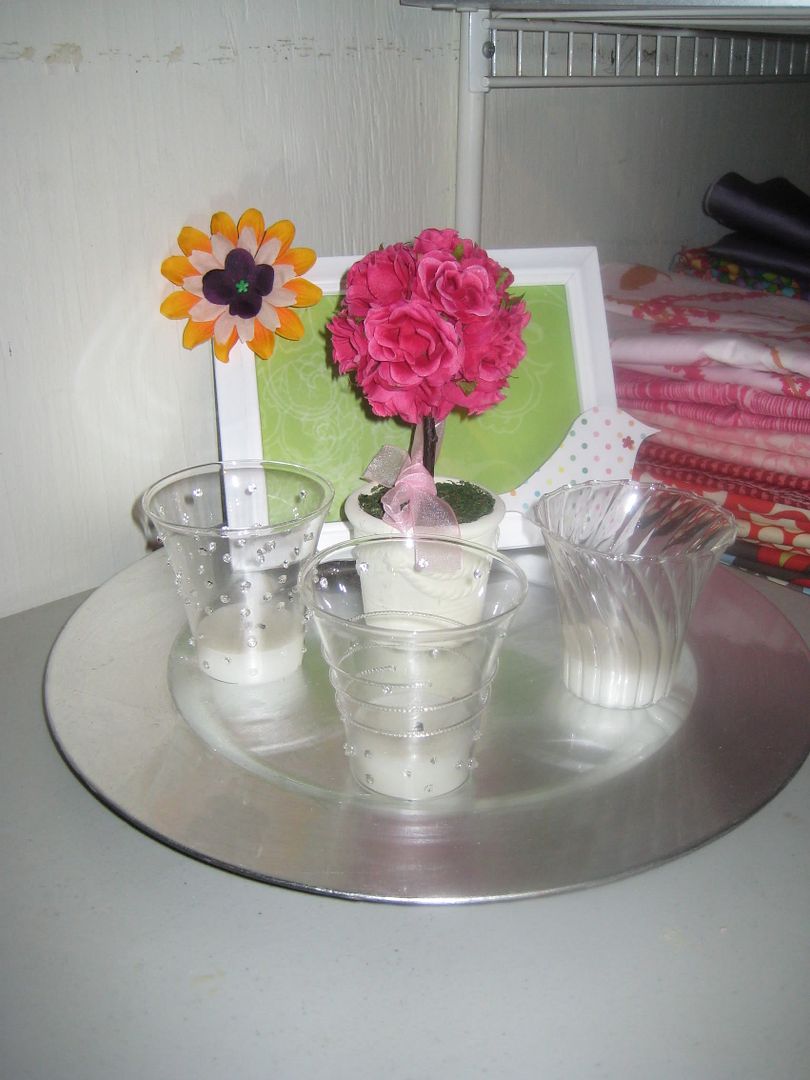 I picked the pink mini topiary up at
The Christmas Tree Shops
for $1.99. If you don't have a CTS near you, I'm so sorry! They have awesome deals on just about anything you need. When I spotted it in the Valentine's section, I knew exactly where it was going. Now I want to go back and get the white and light pink ones too. Maybe tomorrow... The frame I whipped together the other night - just a piece of scrapbook paper, fake flowers and a little birdie I made with cardboard and paper. It's all temporary, so I can change it out whenever I want.
What do you think? What would you add to it?